PARAGON SOFTWARE SOLUTIONS, MASSACHUSETTS-BASED MICROSOFT GOLD CERTIFIED PARTNER, HELPED BEACON HOSPICE ON MICROSOFT DYNAMICS GP UPGRADE
Converting from one financial application to another – even if it's an upgrade from Microsoft Dynamics GP version 9 to Microsoft Dynamics GP 2010 – makes even the most seasoned controllers and accountants take notice.
For one, there's reporting. And making sure that all your company's current and historical data is seamlessly transferred into the new system. That's what Charleston, Massachusetts-based Beacon Hospice faced in November 2010. With 24 locations in Massachusetts, Connecticut, Rhode Island, New Hampshire and Maine, Beacon's approach to hospice care creates a patient and family environment of hope, comfort and dignity. Founded in 1993 to better serve the needs of terminally ill patients, the company offers a range of pallative care, private duty, end stage dementia and end stage cardiac programs.
Creating Picture-Perfect Reports Every Time
Having worked with Paragon Software Solutions in the past, when the time came to move to Dynamics GP 2010, there was no question about who would do it. "Our year end is December 31 and we wanted to make sure everything was up, running and converted before we got to year end," explains Jean Smith White, Beacon's corporate controller. "In November, Paragon performed the upgraded and was the most seamless conversion I've ever been through. Paragon told us we'd be down Thursday afternoon, all day Friday and coming in on Monday all the work stations would be brought up one by one. That's exactly what happened."
In anticipation of the conversion, White ran all of the company's complex reports. In addition to the 24 individual income statements, she also runs consolidating reports, along with consolidated reports for another company that Beacon operates. The reports are distributed internally and to the board.
When she came in on Monday, she pulled them off again and found that everything was perfect. "All of the historical data was there, as well as all of the fixed assets and integrations. Nothing needed to be redone. It was virtually seamless," she says.
The Paragon Advantage
"Had we done the conversion with a different VAR, I assure you it would have been a nightmare," White says. "Because most of the people doing conversions aren't accountants. Not only is Mark computer-savvy, he's also an accountant. He and the Paragon team understand all of the minutia that goes into making sure everything is there. It was a great experience and I would recommend Paragon Software Solutions to anyone thinking about converting."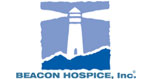 Solution Profile
Industry
Medical – Hospice
Company Profile
Beacon Hospice is a philosophy of care that is designed to help reduce both the physical pain and emotional suffering of patients during their final stages of illness.
Solution
GP2010
SQL 2008 R2
SQL Reporting Services
Excel Reporting
MICR
FRx
Integration Manager
Management Reporter
Microsoft Business Solutions Partner
Paragon Software Solutions, Inc.
Burlington, Massachusetts Beacon Hospice is based in Charlestown, Massachusetts. For more information, visit: http://www.beaconhospice.com/